This is the travel report of our latest intern Finn. Please find it here:
Sustainable rural development works best when stakeholders cooperate – farmers, processors, customers. A good example is Serendipalm's most recent Fair Trade project. The Fair Trade premium paid by Serendipalm's customers was used to purchase 15 3-wheeled transportation motorbikes and supply them to the 11 farmers associations in which Serendipalm's farmers are organized. Total project cost: approximately $ 30,000.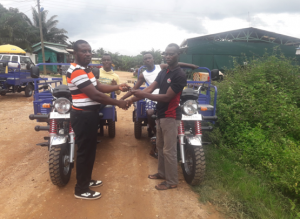 Samah Arkaifie, Serendipalm's Fair Trade Coordinator has overseen the execution of this project which the representatives of farmers on the Fair Trade committee had proposed. She explained during the handover ceremony that many smallholders in the area do not have access to low-cost transportation of their palm fruits, cocoa beans, and other products from the fields. The sturdy all-terrain motorbikes now offer such low-cost transportation. This improves market access and allows farmers to deliver their products harvest-fresh into production. Serendipalm also benefits since the bikes now provide a swift low-cost collection of palm fruits from small, remote farms.
Kwasi Adjei, a farmer from Bomso, praised the swift decision and action of the committee and promised to ensure that his local association will ensure proper maintenance of the bikes – in their own best interest. He confirmed that the vehicles will facilitate the transport of fruits to Serendipalm oil mill and increase the volume of fruits.
A New Mobility in Rural Ghana
Traditionally motorbikes have not been popular in Ghana. The more interesting is the recently growing popularity of motorized three-wheelers from China, in good quality. These will likely, in the coming years revolutionize rural transportation, notably for farmers and small businesses. They're also suitable for transporting the entire family – and more environmentally friendly and energy-efficient than a smoking tractor with a trailer or a bus. The idea, to mobilize the farmers' associations emerged only in mid-2018. Because of the obvious benefits for all parties, the project was swiftly implemented.